Sale!
Saint Vincent & The Grenadines Flag Bikini Swimsuit
Dive into Caribbean style with the Saint Vincent and the Grenadines Bikini Swimsuit. Made for comfort and designed for fashion-forward women, this swimsuit combines island flair with a snug fit. With its fade-resistant design and a range of strap colors to choose from, it's your perfect beach companion. Embrace the beauty of the Caribbean in this stylish piece.
Excl. Vat
Description
Dive into island paradise with the Saint Vincent and the Grenadines Bikini Swimsuit, a true embodiment of Caribbean elegance.
Crafted with your comfort in mind, this swimsuit is made from a high-quality blend of 83% Nylon and 17% Spandex. This ensures a snug and comfortable fit that lets you move with ease. Whether you're lounging on the beach or taking a dip in crystal-clear waters, this bikini is your perfect companion.
This swimsuit is designed for the fashion-forward woman, offering a stylish and personalized look that exudes Caribbean flair. The advanced heat sublimation technique used ensures that its vibrant colors and unique design won't fade in the water. So you can embrace the beauty of the islands without worry.
The strap of this bikini comes in a variety of colors, allowing you to choose the one that best complements your style. With sizes ranging from S to 5XL, there's a perfect fit for every body type.
For easy maintenance, this bikini is machine washable. To keep it looking its best, wash it in cold water (max 40℃ or 104℉), avoid chlorine, iron with a cover, and refrain from tumble drying. Let it air dry in the shade for lasting beauty and durability.
Make a splash with the Saint Vincent and the Grenadines Bikini Swimsuit and enjoy the Caribbean vibes wherever your beach adventures take you.
83% Nylon, 17% Spandex, comfortable
Designed for fashion women, stylish and personalized.
Using an advanced heat sublimation technique, it will not fade in water.
The strap is available in 4 colors.
Size: S, M, L, XL, 2XL, 3XL, 4XL, 5XL.
Material Care:
Machine wash: cold (max 40℃ or 104℉); Non-chlorine; Iron with cover; Do not tumble dry; In the shade.
Only logged in customers who have purchased this product may leave a review.
Size Guide
How To Measure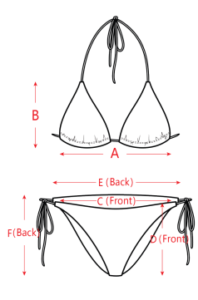 | SIZE | N/A | CHEST WIDTH (A) Inches | Top Lenght (B) Inches | ottom Front (C) Inches | Front Bottom Lenght (D) Inches | Back Bottom Width (E) Inches | Back Bottom Lenght (F) Inches |
| --- | --- | --- | --- | --- | --- | --- | --- |
| S | 32 | 16.30 | 6.38 | 8.07 | 7.48 | 11.02 | 8.66 |
| M | 34 | 17.09 | 6.69 | 9.06 | 7.87 | 12.20 | 8.86 |
| L | 36 | 17.87 | 7.01 | 9.45 | 8.86 | 12.60 | 9.25 |
| XL | 38 | 18.87 | 7.28 | 10.04 | 9.06 | 12.80 | 9.84 |
| 2XL | 40 | 19.45 | 7.52 | 10.63 | 9.45 | 13.39 | 10.43 |
| 3XL | 42 | 20.24 | 7.83 | 11.22 | 9.84 | 13.98 | 11.02 |
| 4XL | 44 | 21.02 | 8.07 | 11.81 | 10.24 | 14.57 | 11.42 |
| 5XL | 46 | 21.81 | 8.39 | 12.40 | 10.63 | 15.16 | 12.20 |